Thank you for considering the Good News UMC church family!
We look forward to meeting you soon. Here's what you can expect:
We have 3 different Sunday services. The 8:15am service is more of a traditional service with hymns, choir, and some of the more formal elements of worship. The 9:30am and 11:00am services are contemporary services with a band. We have childcare and children's church available at all services.
When you arrive, you may park in the front or rear of the church. There is an awning for the main building in the back if you wish to drop your family off on a rainy day before parking. We have 3 buildings on the campus. The smaller building, which has the steeple and awning out front, is the kids' and students' building. The other, larger, building contains our offices, nursery, preschool classrooms and worship center. The third is our new preschool addition.
Make sure to arrive early enough for fellowship time. Before each service we have coffee and Panera pastries available and we encourage folks to grab a cup of coffee and enjoy meeting their church family. If you have children, try to arrive early for the first time so you can enter all of your information into the child check in system. The first time takes a few minutes, but every time after that is quick and easy!
People often ask us what the "dress code" is for worship here at Good News. You'll see the full spectrum. Few wear suits, most wear business casual, and some wear shorts and flip-flops. We are a beach community after all! Come as formal or casual as you're comfortable and you won't be out of place.
We're just glad you're here.
Please let us know if you have any other questions. We look forward to seeing you soon!
This is our main building. It is where you will find the church office, Worship Center, Nursery, Preschool hallway, Cafe area, Kitchen, LRC (Learning and Recource Center) and Adult Classrooms.
This is where our Sunday morning services are held.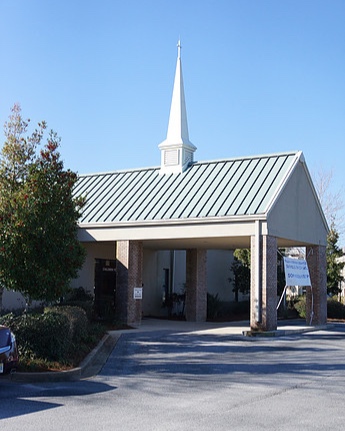 The Kids' and Students' Building is the home for the next generation: grades Kindergarten through High School.
Worship Times
Traditional Service: 8:15 am
Contemporary Services: 9:30 and 11:00 am
Directions and Map
Good News Church is located approximately 3 miles east of Sacred Heart Hospital, across from Bayou Bill's, in Santa Rosa Beach, FL.